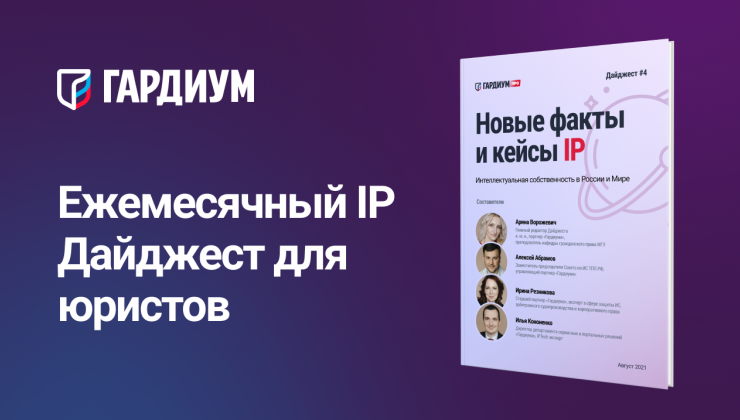 29.09.2021
IP universe - in your mail: new IP Digest for lawyers
Company «Gardium», partner of Distant&Digital, presents monthly IP Digest for lawyers interested in intellectual property.
In each issue, you will find a review of precedent-setting cases, analysis of trends in enforcement and changes in legislation, and interesting events to be noticed. IP Digest helps you get up-to-date information from your colleagues in the sphere. No tedious search among repetitions of the same news.
Lawyers for Lawyers
The editor-in-chief is Arina Vorozevich, Doctor of Law, Gardium's partner, MSU teacher, author of more than 100 materials on intellectual property protection. Among the authors are lawyers and intellectual property experts with many years of experience and academic insight.
For example, in every issue, there are materials of Alexey Abramov, Gardium's managing partner, deputy chairman of the Board on IP of Chamber of Commerce and Industry of the Russian Federation, and lecturer of the scientific-educational center of IP and digital economy digital IP.
Draw your interest
Authors guarantee only useful content and interesting presentation.
For instance, in the September issue they described two complicated cases contesting Rospatent's refusals: the registration of a city name as trademark and a word designation, similar to the Georgian term.
In another section authors dealt with confusing history with registration of the notation «Yoshkin Cat», which is not the first time it received a refusal.
And in the special section "Kitchen of Evidence" (Workshop) in each issue you can find out how the losing party could win in real cases. For example, how to assert one's rights through the principle of estoppel and to prove that an exclusive action was an abuse.
A few issues have already been published, and among the articles you will surely find something useful for yourself.
You can subscribe to the monthly Digest here. All materials go in Russian.
Bonus
Until the end of the year, among the subscribers of the Digest there is a draw of Arina Vorozhevich's book «Protection of exclusive rights on patented objects». To participate, you have to subscribe to the Digest and fill in the form you will receive along with the fresh number.