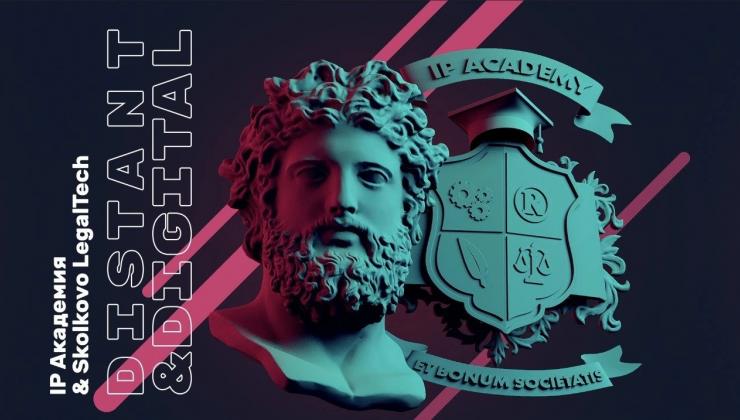 16.09.2021
DISTANT & DIGITAL predicts the consequences of global digitalization
The new format of the DISTANT & DIGITAL conference, based on the partnership between the IP Academy and Skolkovo LegalTech, proved its worth in 2020, revealing the entire palette of modern LegalTech and IP technologies. This year, the event will take place on October 28-29 at the Digital Business Space (DCS) in Moscow . Experts in the field of creative industries, intellectual property and practicing lawyers will meet at one site .
A feature of the upcoming conference will be an emphasis on the experience of successful and most unexpected collaborations that give rise to new markets and high-tech industries.
To this purpose, DISTANT & DIGITAL 2021 put together artists and lawyers, said Director of Development of Legal Technologies Fund " Skolkovo " Anton Pronin : " Together with the creative entrepreneurs, we look at how to protect their creative projects, and with lawyers to discuss new horizons of opportunity for development business and professional competencies. I am sure that in the format of a live dialogue we will be able not only to identify the main trends in the digital world, but also to outline ways to solve legal, regulatory and ethical problems associated with the rapid improvement of devices and algorithms . "
Learn how to implement the technology in law , in entrepreneurship and creativity to help thematic workshops. Layers with broad experience as an example of successful cases will explain , how to apply the key LegalTech - and IP -Tools needed for business growth .
The program of the conference will cover a wide range of issues related to the global technological and economic challenges for the state and creative industries, emphasized Managing Partner Intellectual Property Center " Skolkovo " Anton Pushkov : " How to restore the violated intellectual property rights and fight piracy in the digital environment? What are NFTs - tokens - hype or new economy? Does creative expression have legal boundaries? How does legal regulation need Big Data ? What legal competencies are important to develop for space exploration? These and other sensitive topics will be discussed by more than 200 speakers and experts from 20 countries : top managers of leading digital companies, developers of innovative and creative products, leading intellectual property experts, lawyers-practitioners and representatives of government organizations . "
Organizers DISTANT & DIGITAL 2021: Association IPChain and international communications brand IPQuorum . The co-organizers are the Scientific and Educational Center for Intellectual Property and Digital Economy Digital IP and the Federation of Intellectual Property.
Official partner ─ Skolkovo Foundation. Session partners ─ European Legal Service , Garant Company, Guardium Patent Office . Workshop partners are Garant , Digital Science and Legit Law Firm . The communication partner of the Forum is the agency of integrated communication solutions Prophet . Information partners are ─ InterMedia information agency , magazines Strategy, SHORTREAD, The Lawyer , industry portals Moviestart , Berza , IT Media , ICT-Online.ru, ICT2GO.ru.